Monthly Success: 77
Total of 14159 since 2004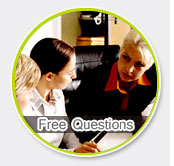 | | |
| --- | --- |
| | Study Strategy |

Following the PM-ABC® Standard Operating Procedure ('SOP')


1.
Build up your basic competency with 10 questions for the preview, and 10 questions for the review works of each chapter. You may use our Practice Test of 280 Questions.
2.
Take the Practice Test of 100 for Self Assessment (I) to identify your weak areas.

This self-assessment test is aimed at identifying your weak areas, on which you should concentrate and work on more. Therefore, we strongly suggest you do not prepare too much for this self-assessment. By then reviewing what answers you have got wrong, or had trouble completing, you will understand the strengths and weaknesses of your knowledge and can more effectively plan your study. Otherwise you could be studying all the textbooks. This process could take months, even years. By the time you have finished studying all the material thoroughly you may be mentally exhausted and have lost all your enthusiasm for the subject. This self-assessment will prevent this, and will allow you to concentrate and focus on your real problems areas.

3.
Review those chapters you are weak at with the reference to the score summery chart, and focus on the questions you failed with PM-ABC® lessons learned method. Test yourself to see if you have really mastered the chapters, with at least 10 questions. If you still can not get over 7 questions right, go through of the sections where you have made mistakes, and then take another 10 questions. Continue to do so until you get an overall mark of 70% for each chapter.
4.
Take another self assessment test, Practice Test of 100 for Self Assessment (II) , to see if you are ready for the next step, the Simulated Test of 200 Questions for Four Hours (I). Again, here we recommend you need to get at least 70%. If you do not manage to do so, go back to step 3.
5.
Take the Simulated Test of 200 Questions for Four Hours (II) , if your test result is over 70%, then, congratulations! You are now ready to take the real exam. If you failed, go back to step 3, and take another two hour exam simulation (200 Questions).

Our SOP and unique Lessons Learned method have proved to be the most efficient study strategy for the exam preparation. This can help you quickly concentrate the scope of your study onto grasping the key points of the exam.?
If you find yourself continually failing the exam simulation, then get in touch with your academic coach – they will be pleased to help you. Even if you don't contact us, we will be monitoring your test scores and your academic coach will contact you to offer you help.


Every time you have a test result from a simulated exam, you can use the following method to work on your weak areas. This will be especially helpful if you find yourself repeatedly slipping-up on the same questions. You should find this helps quickly improve your overall understanding:

| | | |
| --- | --- | --- |
| | | |
| | 1. | Refer to the part of the PMBOK where the question is testing you on. |
| | | |
| | 2. | Find out the concept's context. In which area does this concept come from? What are its relationships to other concepts? This is crucial whenever you start to properly understand a concept. It is called mind-mapping. Mind-mapping helps you locate and understand a concept within the wider context of inter-related concepts. |
| | | |
| | 3. | Read through these related concepts first. |
| | | |
| | 4. | Read through the text of the concept itself. Now you can have an understanding of the idea itself and have a comparison with other related ideas. |
| | | |
| | 5. | Spot related ideas and keywords in the text of the concept. Get familiar with them by referring to them in the PMBOK. |
| | | This may sound a little burdensome because each of these ideas and keywords have their own context which needs to be studied. But if you want to make a gigantic leap forward in your understanding, they are your jumping board. These keywords and terms are exactly what the questions will use, in variaous combinations, to test your familiarity with a concept, or how they relate to other concepts. If you can learn to understand their relationships between concepts by referring to them in the PMBOK, you will find yourself quickly and easily understanding individual keywords, terms and concepts. |
| | | |
| | 6. | Expand your idea of the concept itself by reading through other pages that it appears on, using the contents and index as a guide, in the PMBOK or your other textbooks. |
| | | |
| | 7. | Refer to the PMBOK for the other three choices of the question you failed to get right. Find out the section/ pages these choices are from. Reference them by going through steps 1-6, especially the ones that confuse you the most. |
| | | |
| | 8. | By performing this referencing, you can effectively strengthen your weak areas with your deepened and expanded understanding of a specific concept, or its related parts. And this allows you to focus your study, spending less time on exam preparation, and spending less effort on preparing well. |
| | | |
| | 9. | If you are using our Simulated Test Series, a detailed instruction of this method is provided with your test system. |
| | | |

| | |
| --- | --- |
| | Join a Study Group |

| | | |
| --- | --- | --- |
| | | |
| | 1. | We highly recommend our students, or online users, join a study group to prepare for PMP/CAPM Certification Exams. The study group can push you to keep going with your study and can serve as an excellent opportunity to review terms and concepts, discuss and understand issues which may not be easy to understand, and relate then to project management practices in different application areas. |
| | | |
| | 2. | If you can, find people from the same location, and agree to meet regularly (maybe once or twice a week) to discuss relevant issues in the PMBOK. Set up a study session for each week, lasting at least four hours. |
| | | |
| | 3. | If you can not find people in the same location as you to form a study group, try some online study groups where students can ask questions and discuss issues relating to PMP/CAPM Certification Exams. |
| | | |
| | 4. | PM-ABC® also provides you a personal instructor. If you have any questions, you can use the online inquiry to ask questions. Within 48 hours, your questions will be answered by our on-call instructors. |